Insights
FOMC Preview: Why Powell sees himself as Volcker
The Chair of the Federal Reserve has made it clear that suppressing 40-year high inflation will be their highest priority. At Jackson Hole, Powell ends his speech with "we will keep at it until we are confident the job is done." Parallels can be drawn the last time inflation was uncontained, a time where Arthur Burns and Paul Volcker were the Fed chair. The root causes of inflation preceded Burns, however, his response was insufficient to combat it. This left Volcker with little option other than to forcefully wring high inflation out of the system, at great cost to the economy.
Mistakes made during Arthur Burns tenure are not to be repeated. Burns began as Fed chair in February 1970, nominated by President Nixon in 1969. At the time headline inflation was around 6.1% and later peaked to 12.4% in 1974. It became apparent early in Burns tenure that he did not believe there was a relationship between the inflation and monetary policy. He was convinced that inflation was heavily influenced by exogenous or non-monetary factors. In hindsight, this was an error of massive proportion, to be further compounded by two oil crises in the same decade (Yom Kippur War and Iranian Revolution). In 2022, we are also facing an energy crisis. While Burns was a well-respected economist, it can be argued he did not act entirely independent. Nixon deemed Burns to be a Republican loyalist. Evidence from the Nixon tapes showed that Nixon pressured Burns to pursue expansionary monetary policy on numerous occasions in the run-up to the 1972 presidential election. Nixon speaking to Burns, "I don't want to go out of town fast," "this will be the last Conservative administration in Washington." Similarly, Powell faced pressure from President Trump to keep policy easy calling him a "bonehead" and an "enemy." Burns fear of politically hurting the Republican party contributed to the muted response of rapidly rising inflation.
Powell admires Volcker's achievements as Fed chair. Volcker was appointed by President Carter in August 1979 and immediately acknowledged monetary policy could bring down inflation. Volcker rolled out policies that raised interest rates to unheard of levels. This wrought tremendous pain on the economy, to the chagrin of the public and Washington. Famously people were mailing Volcker their car keys because their car loans were too expensive. "I knew Paul Volcker," said Powell during a congressional testimony in March. "I think he was one of the great public servants of the era – the greatest economic public servant of the era." Powell admired Volcker for his steadfast attitude and commitment to breaking double-digit inflation. "That's the proper historical reference for what we're trying not to replicate," Powell said in reference to the 1970s. "One of the things that is different now is that central banks... very squarely take responsibility for inflation." There are numerous references to Volcker in Powell's recent public speeches indicating his policy stance may follow Volcker's footsteps.
Although parallels can be overdrawn, Powell has the advantage of hindsight to draft his playbook to today's challenges. Former Treasury Secretary Summers leaves us with the perfect ending. "The question is: Is this the Fed's Paul Volcker moment, or is this the Fed's Arthur Burns moment?"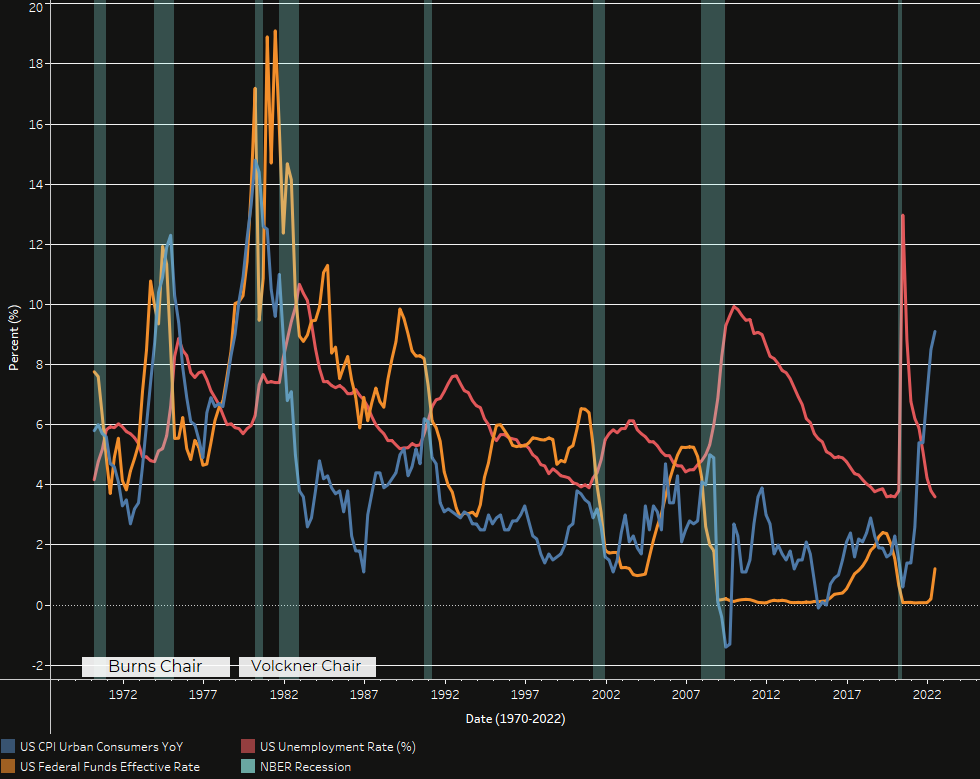 Sources
Luther, William J. What Arthur Burns Broke, Paul Volcker Fixed | AIER. https://www.aier.org/article/what-arthur-burns-bork-paul-volcker-fixed/
'Jay Powell Channels His Inner Paul Volcker with Tough Stance on US Inflation'. Financial Times, 17 Mar. 2022.
Abrams, Burton A. 'How Richard Nixon Pressured Arthur Burns: Evidence from the Nixon Tapes'. Journal of Economic Perspectives, vol. 20, no. 4, Aug. 2006, pp. 177–88. DOI.org
Smialek, Jeanna. 'Powell Admires Paul Volcker. He May Have to Act Like Him.' The New York Times, 14 Mar. 2022. NYTimes.com
Sommer, Jeff. 'Lessons From the '80s, When Volcker Reigned and Rates Were High'. The New York Times, 5 Aug. 2022. NYTimes.com
Nelson, Edward (2022). "How Did It Happen?: The Great Inflation of the 1970s and Lessons for Today," Finance and Economics Discussion Series 2022-037. Washington: Board of Governors of the Federal Reserve System, https://doi.org/10.17016/FEDS.2022.037.